Our Smart Cities NYC key takeaway
By Kathryn Willson, Director of Microsoft CityNext, Worldwide Public Sector and Jeff Friedman, Director of Modern Government on May 15, 2017
Filed under Microsoft CityNext
We'd like to offer a big thank you to Smart Cities NYC (SCNYC) for a great event. Held in the Brooklyn Navy Yard, which is undergoing rejuvenation and expansion, it inspired a unique perspective on urban renewal.
As Toni Townes-Whitley, our Corporate Vice President of Worldwide Public Sector and Industry at Microsoft, said at the end of her keynote on day one, "you can't be a smart city unless you empower everyone." City leaders have always wanted their communities to be more inclusive. But making a city accessible encompasses so much that it can be challenging to know where to start to address everyone's needs.
So we were excited to be part of launching the Smart Cities for All Toolkit at SCNYC. It offers city leaders a strategic and actionable guide to align their technology initiatives and smart cities programs with their goals to empower people with disabilities or people needing particular accommodations. At the event, we also shared how—together with our Microsoft CityNext partners—we're helping cities create more inclusive digital environments using accessibility features in Microsoft technologies.
Having the Microsoft patrol car on display and offering hands-on demonstrations of real-world solutions at the event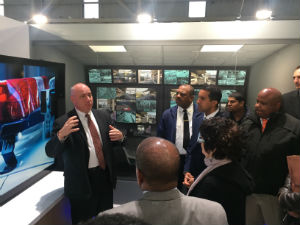 helped not just city leaders, but also citizens to experience what it means to be a smart city. They were able to see how a patrol car with robots, dash cams, and voice-activated license plate readers can advance law enforcement to help make their community safer. They were able to experience how a trusted cloud can help cities solve complex challenges in government, health, education, and safety. And they were able to hear from city leaders whose communities are becoming more livable, inclusive, and prosperous through digital transformation and empowering the 21st century workforce.
At Smart Cities NYC '17, civic leaders and citizens alike could begin to see the future of their city. A future where everyone works together in partnership throughout the transformation process so everyone gets the community they want. A future where everyone is empowered to do more and achieve more and the benefits of digital transformation are universally accessible and equitably shared.
Content retrieved from: https://enterprise.microsoft.com/en-us/articles/industries/citynext/smart-cities-nyc-key-takeaway/.
Upcoming Events
There are no upcoming events.
SC4A VIDEOS

Designing Smart Cities | James Thurston at Smart City Experience 2020

Defining and Measuring Inclusive Smart Cities
James Thurston's Interview on BBC Click Radio | January 23, 2019

Smart Cities for All in Mexico | James Thurston Speaks on the Digital inclusion Maturity Model
Message from Dr Victor Pineda for IDPD