Meet two guys on a mission to make smart cities accessible for all
By Laura Ruby, Director, Worldwide Accessibility Policy & Standards, Microsoft on May 1, 2017
The Smart Cities for All Toolkit
Resources to help cities be more inclusive:
Smart Cities for All: Guide to Implementing Priority ICT Accessibility Standards
Smart Cities for All: Guide to Adopting an ICT Accessibility Procurement Policy
Smart Cities for All: Database of Solutions
Smart Cities for All: Communicating the Case for Stronger Commitment to Digital Inclusion in Cities
Last June, Microsoft announced our support of a new initiative, Smart Cities for All (SC4A), a partnership between the Global Initiative for Inclusive Information and Communication Technologies (G3ict) and World ENABLED. The initiative is aimed at increasing awareness about the role that accessible technology must play in the planning, deployment, and functioning of smart cities worldwide and how smart cities can better engage people with disabilities and aging communities in those processes.
I recently sat down with the SC4A's leadership James Thurston, Vice President for Global Strategy and Development at G3ict, and Dr. Victor Pineda, President of World ENABLED, to learn about the initiative's findings and how cities can use innovative technology in their digital transformation journey to become more inclusive places to live, learn, and work.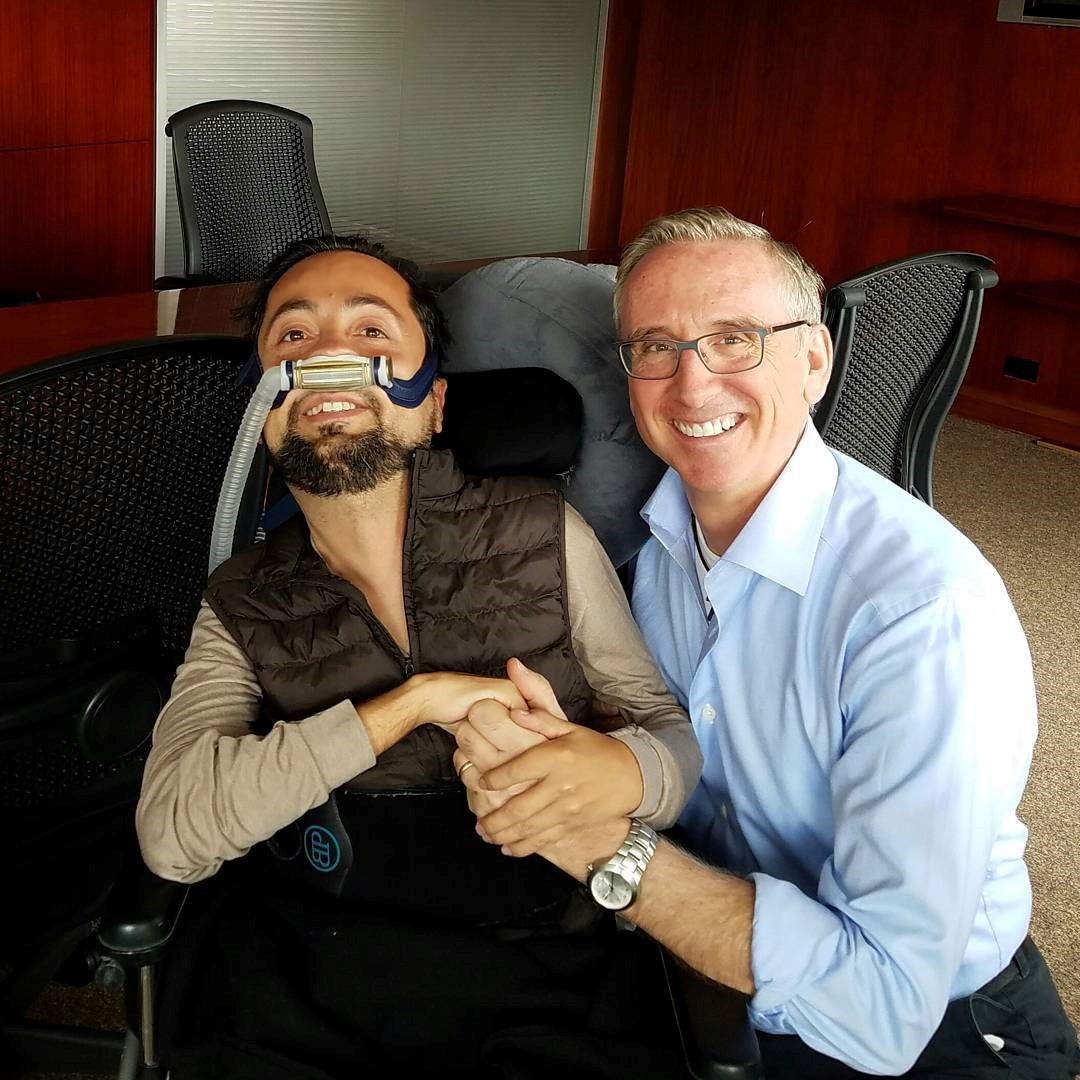 What led you to start this initiative?
James: Both G3ict and World ENABLED have been working on inclusion issues in all parts of the world for many years. Both organizations were seeing smart cities trends that concerned us.  While many countries and cities have smart cities programs that are doing incredible things, very few of them have any explicit focus today on digital inclusion and accessible technology.  We launched the SC4A initiative to address this problem. We want to ensure that the enormous technology investments by smart cities in the coming years make the digital divide for persons with disabilities and older persons smaller, not larger.
Victor: Exactly. The data from our work over the past 10 months confirms this. For example, 60 percent of the more than 250 global experts we surveyed say that smart cities are failing persons with disabilities today. Less than half of them, just 44 percent, know of a smart city project with an explicit focus on ICT accessibility today.
What have you learned over the last year?
Victor: Cities are increasingly where the world's population lives and the proportion of persons with disabilities and older persons living in cities is rising rapidly. By 2050, 70 percent of the global population will live in cities, of which at least 15 percent will be people with disabilities.
James: For me, one of the most interesting learnings is that while global experts identified several barriers to inclusive smart cities—including a lack of awareness, training, and policies—very few identified technology as a barrier. They recognize that smart cities solutions and programs can be made accessible once a commitment is there.
What are some examples of innovative solutions that can help cities be more inclusive?
Victor: During our roundtable in Quito, Ecuador, we learned of an innovative emergency response smart app called RED Alert. RED Alert is a system that simultaneously engages with a city's emergency response services and an individual's personal social network. When the system is triggered, it notifies local urgent responders of the type of emergency and the individual's GPS coordinates. In addition, it alerts an individual's family via SMS, email, or through social media. This gives an individual with a disability an opportunity to get quick and appropriate supports.
James: One of our goals is to get more mainstream smart city solutions providers to see the business opportunities in being more inclusive. For example, an interesting company and Microsoft CityNext partner in South Africa, Intervate, has a smart city solution called Smart Citizen. It empowers citizens to use their smart phone to report issues like potholes, water leaks, or broken traffic lights. The city can pair these citizen incident reports with other data and software to more efficiently dispatch their teams to address the issues. After some brief discussions, the leadership at Intervate saw the value to its city customers of adding a specific "Accessibility" category of issues with sub-categories, such as "Wheelchair Ramps," for citizens to report on. They think this brings more value to their city customers by broadening the range of issues that all citizens, including those with disabilities and older citizens, can engage on with their city. We agree.
What should city leaders and planners be thinking about when they design and build their smart cities?
James: We heard consistently in our expert surveys and smart cities roundtable discussions that one of the most powerful steps toward digital inclusion that every smart city can take is to require accessibility in all of its ICT procurements. When governments use their enormous purchasing power to demand accessible ICT solutions, they push the industry to innovate and compete more on accessibility.
Victor: We also heard that the accessible technology of today is the mainstream technology of tomorrow. Commitment to ICT is not technically challenging and there are real technical benefits. For example, accessible e-government services make software technologies more effective and responsive to a wider pool of users. Smart cities are taking advantage of cloud computing, natural language, and artificial intelligence investments in conjunction with open data and accessible digital infrastructure. These advances all benefit from the technical advantages of ICT accessibility.
What tools are available to cities who want to be smart and accessible?
James and Victor: On May 3 at the Smart Cities NYC event, we will launch a set of four tools to help smart cities be more inclusive. The Smart Cities for All Toolkit is a first of its kind resource—nothing like it exists right now!
The Smart Cities for All tools respond directly to the priorities identified by experts worldwide:
Guide to Implementing Priority ICT Accessibility Standards: The three main ICT accessibility standards of which every smart city program should be aware.
Guide to Adopting an ICT Accessibility Procurement Policy: Provides a model procurement policy that cities can adopt to help ensure that they invest in accessible ICT products and smart city solutions.
Building the Case for a Stronger Commitment to Inclusion: Step-by-step guidance for constructing the business, human rights, and policy arguments for a stronger smart city commitment to digital inclusion of persons with disabilities.
Database of Solutions (alpha version):This database will ultimately showcase 350 products and solutions that can benefit the lives of persons with disabilities and older persons. The alpha version of the database includes five initial key components (including a proof-of-concept demonstration of the need for a solutions database), a framework defining three dimensions to assess and organize smart city solutions, solution examples in 11 areas where solutions could impact a person with disabilities or older persons, a roadmap for alpha testing, and a global call to action to gather more input and solutions.
My key take-a-way: We have the tools and innovative technology to make smart cities accessible. Let's all work together—government, civil society, and industry—to raise awareness and take the necessary actions to ensure smart city programs benefit all people.
Thank you to James and Victor for the great conversation!
Learn more about how Microsoft is helping countries and cities to meet their economic and societal goals at www.microsoft.com/empowering-countries and more about our accessibility efforts at www.microsoft.com/accessibility
#MSFTempowers
About Smart Cities For All (SC4A) Initiative
SC4A is a joint initiative of two global nonprofits: G3ict and World Enabled. SC4A seeks to eliminate the digital divide for persons with disabilities and older persons in smart cities programs worldwide. Learn more at http://smartcities4all.org/
About G3ict
The Global Initiative for Inclusive Information and Communication Technologies (G3ict) is an advocacy initiative launched in December 2006 by the United Nations Global Alliance for ICT and Development, in cooperation with the Secretariat for the Convention on the Rights of Persons with Disabilities at UN DESA. Its mission is to facilitate and support the implementation of the dispositions of the Convention on the Rights of Persons with Disabilities (CRPD) promoting digital accessibility and Assistive Technologies. More information can be found at http://g3ict.org/
About World ENABLED
World ENABLED is a global education, communications, and strategic consulting group. We support companies and governments with the full implementation of legal mandates that promote the rights of persons with disabilities. Our work and research initiatives focus on urban planning and inclusive urban development. With our international partners, we build inclusive societies where people with disabilities fully develop their talents and reach their full potential. More information can found at http://worldenabled.org/
Bios
James Thurston is an internationally recognized technology policy leader. As G3ict's Vice President for Global Strategy and Development, he leads the design and implementation of new programs to scale up G3ict's global impact. He can be reached at jthurston@g3ict.org
Dr. Victor Santiago Pineda is the President of World ENABLED and also teaches city planning at University of California, Berkeley.  Dr. Pineda also serves as President of the Global Alliance on Accessible Technologies and Environments (GAATES). He can be reached at victor@worldenabled.org
Content retrieved from: https://www.microsoft.com/empowering-countries/en-us/sustainable-cities-and-communities/meet-two-guys-on-a-mission-to-make-smart-cities-accessible-for-all/.
Upcoming Events
Oct
24
Mon
8:00 am
M-Enabling Summit 2022. Digital ...
M-Enabling Summit 2022. Digital ...
Oct 24 @ 8:00 am – Oct 26 @ 1:00 pm
With its theme of "Digital Inclusion: Strategies for Equal Opportunities," the 2022 M-Enabling Summit will facilitate networking and brainstorming in exploring major trends in business, government and education that are accelerating the pursuit of universal accessibility for digital products, content and services. With its venue...
SC4A VIDEOS

Designing Smart Cities | James Thurston at Smart City Experience 2020

Defining and Measuring Inclusive Smart Cities
James Thurston's Interview on BBC Click Radio | January 23, 2019

Smart Cities for All in Mexico | James Thurston Speaks on the Digital inclusion Maturity Model
Message from Dr Victor Pineda for IDPD